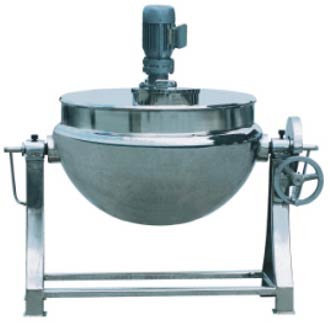 qg (pg) s¨¦rie intercalaire rationnement pan
Use: This equipment is suitable for mixing,concentrating and decocting the material in pharmacetucial, foodstuff and chemical industry etc.
use: cet ¨¦quipement est m¨¦lang¨¦, de concentration et pharmacetucial decocting les documents ¨¤ la denr¨¦e alimentaire et de l'industrie chimique, etc.
Summarize: This equipment is consist of pan, plank,worm wheel and worm.The pan can turn within 180¡ã, so it is easy for taking out the material. The equipment can configure the mixing system according to different craft demand.We have steam heating and electric heating can be choosen.
r¨¦sum¨¦: cet ¨¦quipement est compos¨¦ de pan, planche, le volant et ver. le pan peut tourner ¨¤ 180 ¡ã, alors c'est facile pour sortir le mat¨¦riel.l'¨¦quipement peut configurer le syst¨¨me de m¨¦lange selon m¨¦tiers demande. nous avons de chauffage ¨¤ la vapeur et l'¨¦lectricit¨¦ ne peut ¨ºtre choisi.
Main technical parameter:
principaux param¨¨tres techniques:
Technical Parameter/Model

50L

100L

150L

200L

300L

400L

500L

Volume£¨L£©

50

100

150

200

300

400

500

Pressure of jacekt£¨Mpa£©

£¼0.1

Evaporation capacity£¨kg/h£©

32

50

55

73

89

110

127

Heating area£¨m2£©

0.48

0.77

0.82

1.1

1.33

1.67

1.90

Energy consumption£¨kg/h£©

37

60

64

84

100

130

145

Dimension(m)

1*0.6*1.2

1.2*0.7*1.3

1.3*0.8*1.3

1.3*0.9*1.3

1.5*1*1.4

1.6*1.1*1.4

1.7*1.2*1.6
le param¨¨tre de r¨¦f¨¦rence et de dessin au - dessus des param¨¨tres standard est de