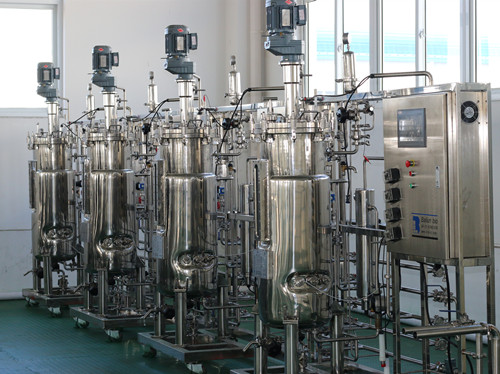 Application:
this fermentation tank is ideal system for production of bacteria, yeast, enzyme,
and fungi ,etc in aerobic and anaerobic cultures.This series of products suits
for various kinds of microbiology lab, pilot and industrial scale fermentation.
User can choose appreciate model according to Client s detail requirement.
We have model from 30L---30000L
Structure Drawing: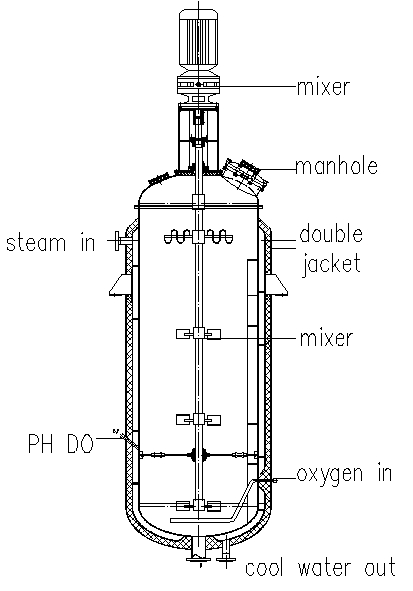 Structure:
This fermentation tank include fermentation tank, mixer, pipes, meters, valves, PH meter, Do meter, anti-foam device, temperature control system, heating system and control system
Principle:
First Sterilization the tank, then fill the culture medium into fermentation tank, adjust the PH and oxygen degree, it should be according to requirement of the bacteria, yeast, enzyme,and fungi. And keep the temperature according to the requirement, and constantly adjust the oxygen degree and PH degree in the tank.
For industrial scale fermentation: first you put raw material into the tank with solvent, then heating it to high temperature to kill the bacterial, then cool the high temperature inside of the fermentation tank, and keep the temperature which the yeast living, add the yeast, and constantly adjust the PH and oxygen degree inside of the tank.
Parameter:
Model

30L

50L

100L

200L

500L

1000L

2000L

3000L

5000L

10000L

50000L

Diameter mm

300

300

400

500

700

900

1200

1300

1500

1800

3100

Height mm

1600

1700

2000

2300

2600

3000

3800

4300

4500

5300

8000

Filling capacity

65%-80%

Inside

Pressure Mpa

0. 2

Jacket pressure Mpa

0.3

Cool method

By jacket

By pipe

Mix speed rpm

400

400

400

360

300

220

180

160

145

125

110

Motor

Power kw

0.55

0.55

0.75

1.1

1.5

2.2

3

4

5.5

13

55
Feature:
1 this fermentation tank is vertical, double jacket, mixer with control box
2 it include DO meter and PH meter
3 It is heated by steam.
4 contact parts SS 316L and outer cladding by SS 304. Facility to adjust speed by VFD.
5 RPM of stirrer can be up to 0- 400rpm/minute
6 All connection and fittings are sanitary type and GMP comply.
7 All valves should are zero dead leg and diaphragm type.
8 Vessel design are GMP comply and completely drainable and easily cleanable.
9 The mixer is install on the top,
10 The vessel has manhole for loading and one view port and on top one troll ball for cleaning.
Order requirement:
1 How much liter fermentation tank do you need?
2 Do you need to check the PH and oxygen degree of the fermentation tank?
3 What way do you want to heat the fermentation tank ? By steam or electric?
4 How much speed of the mixer do you need?
5 When do you need this machine?

ÕãICP±¸08002000ºÅ Sales:0086-13958897272 0086-577-66682966
Copyright © RuiAn global machinery co ltd Copyright.All Rights Reserved.