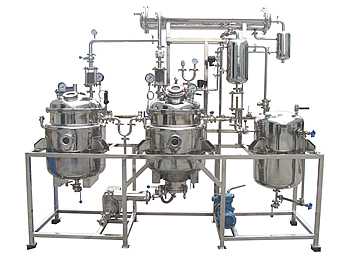 herb des extracteurs et évaporateur

Application:

application:

This herb extractor is suitable for extracting component from herbs (leaves, root, flower or seed)like licorice, stevia, senna and so on and other botanical.It also can realize the solvent recovery and the essential oil collection and it is especially suitable for hospital, pharmaceutical factory, scientific research etc.

cette composante est appropriée pour l'extraction de herb extracteur d'herbes (feuilles, racines, fleur ou de semences) comme de la réglisse, stevia, senna et autres botanical. il peut également comprendre la collecte et l'huile essentielle de récupération de solvant et il convient particulièrement bien pour l'hôpital, pharmaceutical factory, recherche scientifique, etc.

Structure Drawing:

structure dessin:
structure: cette herbe extracteur et du concentrateur comprennent l'extracteur, concentrateur, condenseur, glacière, tuyaux, soupapes, compteurs, séparateur d'eau - huile, filtre, pompe à vide, pompe de transfert, et ainsi de suite.
Principle: first you put the herb (leaves, root, flower or seed )into extractor, add water or other solvent( like alcohol) into extractor. Then heat the extractor, the component from herb will dissolved into water or solvent, after extraction, then pump the extracted liquid into the concentrator, evaporate the water or solvent( like alcohol) which will be cooled by condenser and flow to receiver , the solvent can be used again next time. the component in concentrator will became into cream or liquid which you need.
principe: d'abord, la plante (feuilles, racines, fleur ou de semences) dans l'extracteur, ajouter de l'eau ou d'autres solvants (comme l'alcool) dans l'extracteur.puis la chaleur de l'extracteur, la composante de herb se dissout dans l'eau ou les solvants, après extraction, pompe l'extrait liquide dans le concentrateur, s'évaporer le solvant (comme l'eau ou l'alcool) qui sera refroidi par un condensateur et flux de receveur, le solvant peut être utilisé de nouveau la prochaine fois.la composante de la crème ou liquides dans le concentrateur était dont tu as besoin.
Character: It is new type equipment at present, this equipment is specially suitable for medium pharmaceutical factory or small pharmaceutical factory, hospital, academe and so on. It is specially used for producing small quality but high quality herb.
matériel: il est nouveau à l'heure actuelle, cet équipement est particulièrement appropriés à l'usine pharmaceutique de moyenne ou petite usine pharmaceutique, hôpital, milieu universitaire, etc.c'est spécialement utilisés pour la production de grande qualité de petite qualité mais, herb.
2 it can be heat by steam or electric, if the customer have not steam boiler, they can heat the machine by electric.
2 il peut être chauffer à la vapeur ou électrique, si le client n'ont pas chaudière à vapeur, ils peuvent chauffer la machine électrique.
3 save time: the extracting and concentration can be operated at the same time, so it save much time, before the concentration should be operated after extraction.
3 de gagner du temps: l'extraction et la concentration peuvent être exploités en même temps, on sauve beaucoup de temps avant que la concentration doit être exploité après l'extraction.
4 save energy: the steam from concentrator can heat the extractor directly so we can save 50% steam, so one year you can save money from steam which can buy one machine again.
4 les économies d'énergie: la vapeur peut chauffer l'extracteur concentrateur directement si on peut économiser 50% de la vapeur, donc un an que vous pouvez économiser de l'argent de la vapeur qui peut acheter une machine.
5 the extraction or concentration can be operated under vacuum, if the herb is sensitive to high temperature, so it can be operated under vacuum, so the herb can not be burned by high temperature, second the solvent can be evaporating under lower temperature if the machine is working under vacuum, so it will save time and energy too.
5 l'extraction ou la concentration ne peut être exploité sous vide, si l'herbe est sensible à la température élevée, de sorte qu'il peut être exploité sous vide, si la plante ne peut pas être brûlé par la température élevée, le deuxième le solvant peut être l'évaporation sous température inférieure si la machine fonctionne sous vide, alors il leur fera économiser du temps et de l'énergie.
6 all the machine have not dead corner, so it is good to clean and it is according GMP standard.
6 toute la machine n'ont pas mort au coin, alors c'est bien pour nettoyer et c'est en fonction des bpf.
7 all surface of the machine is mirror polished, so it is looks very beautiful.
7 toutes les surfaces de la machine est miroir poli, c'est très beau.
8 the temperature can be adjusted, you can adjust the temperature according to your requirement, for example you want to heat the machine 100degree, you just set the temperature 100degree, the heating can be stop when the temperature is 100degree, if it is lower 96degree, it can be heating again.
8 la température peut être ajusté, on peut ajuster la température selon votre exigence, par exemple que vous voulez pour chauffer la machine 100degree, tu vient juste de la température 100degree, le chauffage peut être arrêter quand la température est 100degree, s'il est inférieur 96degree, ça peut être le chauffage.
Parameter:
paramètre:
Model Items

TD-20

TD-50

TD-100

TD-200

TD-300

TD-500

Extractor (L)

20

50

100

200

300

500

evaporator(L)

20

50

100

200

300

500

Working pressure in jacket

<0.1Mpa

Working pressure in pot(Mpa)

Usual pressure or Negative pressure

Extract Temperature(℃)

40-100

Heat Medium

Steam / Hot water/hot oil

Vacuum pump model

SK-0.4

2X-2.2KW

2X-2.2KW

2X-3KW

2X-3KW

2X-4KW

Electric power(kw)

0.37

0.37

0.37

0.37

0.37

0.55

Temperature scope

0-200℃

Total electric power(kw)

6+6

12+12

15+15

18+18

24+36

36+48
matériel
Stainless steel
l'acier inoxydable
Order requirement:
vue exigence:
How much liter of this machine do you need?we have 50L 100L 200L 300L 500L 1000L .......10000L and so on
combien de litres de cette machine?nous avons 50l 100l 2001 300 litres 500 l 1000l....... 10000l etc.
What way do you heat the machine? By electric or steam?
- comment tu chauffer la machine?par électrique ou de la vapeur?
What is your raw material? Is it leaves, stem, Flower or root?
qu'est - ce que vos matières premières?c'est des feuilles, de la tige, flower ou racine?
What last product do you want to get? Liquid? Cream or powder?
ce dernier produit est - ce que tu veux?liquide?crème glacée ou en poudre?
What material of the machine do you need? Stainless steel 304 or stainless steel 316, both are GMP requirement
quel matériel de la machine?l'acier inoxydable 304 ou l'acier inoxydable 316, deux exigences bpf
When do you need this machine?
quand as - tu besoin de cette machine?