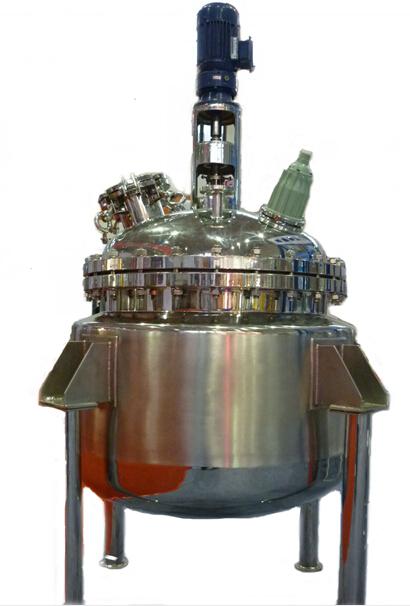 pzg réservoir de mélange
Application:
application:
1.Cosmetic and daily chemical product: Cosmetic cream, lotion, shampoo, detergent, health care product, gel, Laundry detergent, hand sanitizer, armpits lotion etc.
1. les cosmétiques et produits chimiques quotidienne: crème cosmétique, lotion, shampoing, lessive, produits de soins de santé, de gel, de lessive, de désinfectant pour les mains, aisselles lotion etc.
2.Pharmaceutical product: Ointment, Ice packs, injection liquid, penicillin etc
2. produit pharmaceutique: crème, glace, injection de liquide, la pénicilline, etc.
3.Food : Salad, mayonnaise, peanut butter, sesame butter, buttery, Animal fat, iced products, healthy food etc.
3. la nourriture: salade, mayonnaise, beurre de cacahuètes, beurre de sésame, du beurre, des graisses animales, des aliments sains produits glacé, etc.
4. Beverage: Fruit Juice, Milk Juice etc.
4.lait: jus de fruits, jus, boissons, etc.
5.Chemical: Paints, Pigments, dyes, photo solvents, Rubber and resin, pesticides ,Shoe polish, general chemicals etc.
5. produit chimique: peintures, pigments, colorants, photo de solvants, de caoutchouc et de résine, pesticides, produits chimiques, etc., cirage, général
Structure Drawing:
structure dessin: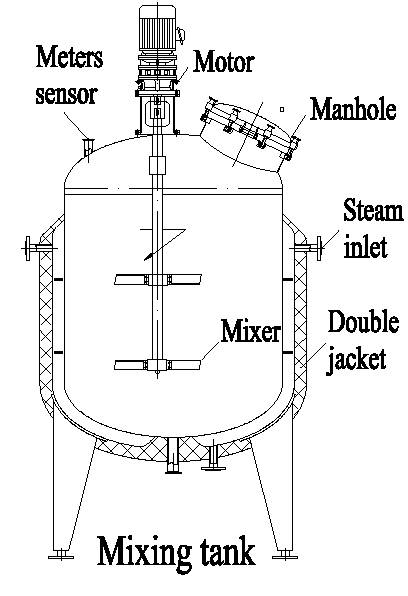 structure:
This mixing tank include tank, mixer, pipes, meters, valves, temperature control system, heating system, cooling system and control system
ce réservoir de mélange inclure tank, mixeur, tuyaux, soupapes, le système de contrôle de la température des compteurs, le système de chauffage, de refroidissement et de contrôle
The detail requirement should be according to customer' requirement
les détails doivent être selon les exigences des clients
Description:
description:
This stainless steel mixing tank is used in the mixing, dispersing, dissolving, emulsification, dissolution, reaction, formulating, heating, cooling, warm-keeping, cultivating, disinfecting and storage etc. Different types of blades and relevant speed achieve the production condition. This mixing tank can be used with combination of flow meter, liquid level indicator, temperature sensor etc. functional accessories. Main shaft seal types: stuffing seal, mechanical seal, and magnetic seal. Jacket can be used to achieve heating preservation, cooling, heating etc.
ce réservoir de mélange en acier inoxydable utilisé dans le mélange, la dispersion, la dissolution, l'émulsification, la dissolution, la réaction, de la formulation, de chauffage, de refroidissement, chaleureux, de cultiver, de désinfection et de stockage, etc. différents types de lames et vitesse d'atteindre les conditions de production pertinentes.ce réservoir de mélange peut être utilisé avec la combinaison du débitmètre, indicateur de niveau de liquide d'accessoires fonctionnels, capteur de température, etc.).l'arbre principal seal types: farce seal, mécanique de fermeture de phoques, et magnétiques.veste de conservation peuvent être utilisées pour atteindre le chauffage, refroidissement, chauffage etc.
Parameter:
paramètre:
Model

30L

50L

100L

200L

500L

1000L

2000L

3000L

5000L

10000L

50000L

Diameter mm

300

300

400

500

700

900

1200

1300

1500

1800

3100

Height mm

1600

1700

2000

2300

2600

3000

3800

4300

4500

5300

8000

Filling capacity

65%-80%

Inside

Pressure Mpa

-0.1---5

Jacket pressure Mpa

-0.1---5

Cool method

By jacket

By pipe

Mix speed rpm

0--300

Motor

Power kw

0.55

0.55

0.75

1.1

1.5

2.2

3

4

5.5

13

55
caractéristique:
1. Suit for the process about formulating, dissolving, heating, cooling, warm-keeping, cultivating, disinfecting and storage. It is available online CIP cleaning ( only suitable for enclosed structure)
1.costume pour le processus de l'élaboration, de dissolution, de chauffage, de refroidissement, chaleureux, cultiver, de désinfection et de stockage.il est disponible en ligne (uniquement nettoyage approprié pour catalogage structure fermée)
2. Designed in accordance with sanitary requirements, so the structural design is very user-friendly, easy to operate, healthy to store.
2.conçu en conformité avec les exigences sanitaires, si la conception structurelle est très convivial, facile à exploiter, sain conserver.
3. The inner surface is mirror-polished (roughness Ra≤0.4µm); the welding of all kinds of nozzles, endoscopic, manholes and the pot adopt stretch flanging process arc transition, easy to clean with no dead ends, ensure the reliability and stability in the production process.
3.la surface intérieure est miroir poli (rugosité ra ≤ 0,4 µ m); le soudage de tous types de diffuseurs, d'endoscopie, de regards et de l'herbe adopter stretch bridés processus arc de transition, facile à nettoyer, avec pas d'impasse, de s'assurer de la fiabilité et de la stabilité dans le processus de production.
4.T he main blending adopts stepless speed variation device, which can reduce the formation of bubbles when the temperature is low and the viscosity is high.
4. le principal dispositif de variation de vitesse adopte la continuité du processus de mélange, ce qui peut réduire la formation de bulles quand la température est basse et la viscosité est élevé.
5.The gear pump circulating discharging device can accelerate the forming of products and realize rapid discharging.
5. l'engin pompe l'appareil peut accélérer la circulation de produits et de réaliser rapidement l'exécution formage.
Order requirement:
vue exigence:
1 How much liter of mixing tank do you need?
1 combien de litres de mélange tank?
2 what this tank used for?
2 que ce réservoir utilisé?
3 What way do you want to heat the mixing tank ? By steam or electric?
3 - comment tu veux chauffer le mélange tank?par de la vapeur ou de l'électricité?
4 How much speed of the mixer do you need? Do you need Frequency speed? What is the exactly?
4 À quelle vitesse du mélangeur?avez - vous besoin de fréquence de vitesse?qu'est - ce exactement?
5 When do you need this mixing tank?
5 quand tu as besoin de ce réservoir de mélange?
6 do you need automatic control or manual control?
6 - commande automatique ou manuel?
7 do you need jacket or insulation layer not
7 avez - vous besoin de veste ou couche d'isolant non